Healthier than the butter-sugar-and-white flour variety, but still definitely a special treat rather than health food 😄. They are the everlasting gobstoppers of cookies, according to our 8 year old, because every bite tastes like a different delicious food: cookie, halvah, olive oil crust pie, the works. Each cookie consists of 1/2 cup of cookie dough. They are huge. And they are made with whole wheat flour and erythritol sweetener rather than sugar.
Vegan Supersize Olive Oil Tahini Chocolate Chip Cookies
2 1/4 cup whole wheat pastry flour
1 1/2 tsp cornstarch
1 tsp baking soda
1/2 tsp salt
1/2 cup olive oil
1/4 cup tahini
3/4 cup brown sugar erythritol (or sugar)
1/2 cup granulated erythritol (or sugar)
Egg replacer for 1.5 eggs (I used 1.5 Tbsp ground flax meal + 3.5 Tbsp water, mixed. Don't use a dry replacer or the dough will be too dry.)
2 tsp vanilla extract
3/4 – 1 cups semi-sweet or dark chocolate chips (I used Enjoy Life mini chips)
Preheat oven to 325 degrees Celsius. Line 2 baking sheets with parchment paper.
Mix dry ingredients in separate bowl.
Beat olive oil, tahini, and erythritol (or sugars) together. I used a stand mixer for this. Once mixed, add flax egg replacer and vanilla and mix.
Beat in dry ingredients into wet. The dough may be crumbly, so you may need to add a little more flax egg, olive oil, or tahini.
Mix in chocolate chips.
Measure out 1/2 cup cookie dough and form into thick patty. Place three cookies per sheet (6 total) with space in between each.
Bake for about 25 minutes. The cookies will still seem pretty soft – YOU MUST let them rest on the baking sheets for 15 minutes before eating!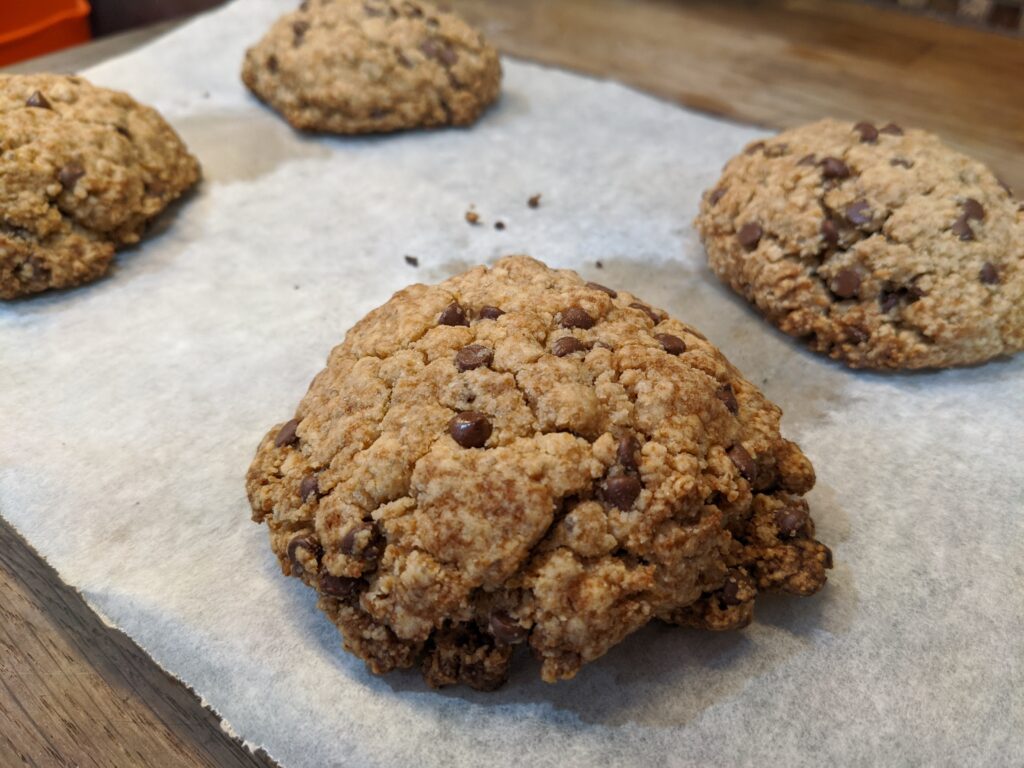 These are the best chocolate chip cookies I have had in a long while, crisp yet also thick and chewy, with an almost biscotti-like texture. You can really taste the tahini and olive oil, which is exactly what I wanted. If you love halvah and cookies, you will love these vegan olive oil tahini chocolate chip cookies!

Credit: Source link