Most store-bought granolas are packed full of oil, sugar, and sodium, but our easy oil-free granola recipe transforms this breakfast staple from an unhealthy snack into a wholesome treat. The base recipe is endlessly flexible and can accommodate dozens of different add-ins depending on what flavor profile you're feeling.
Keep it simple with a dash of cinnamon and a handful of raisins, or take your taste buds on a trip to India with dried mango, cashews, and warming chai spice. Feel free to mix-and-match your favorite ingredients, and enjoy a scoop of this amazing granola over vegan yogurt or drizzled with plant-based milk.
Struggling to cook healthy meals at home?
Forks Meal Planner is here to help.
Base Recipe: Oil-Free Granola
45 minutes | Makes 4 cups
Crunchy and clumpy with just a hint of sweetness from dried fruit, this basic granola recipe provides the foundation for the flavor variations that follow, or it can be tweaked to suit your personal preferences.
1 cup pitted dates
3 tablespoons binder of your choice (flaxseed meal, chia seeds, nut butter, or tahini)
1 teaspoon pure vanilla extract
¼ teaspoon sea salt
3 cups old-fashioned or thick-cut rolled oats
¾ cup coarsely chopped nuts and/or seeds
½ cup dried fruit
1. Preheat oven to 300˚F. Line two baking sheets with silicone baking mats or parchment paper.
2. Place dates, flaxseed meal, vanilla, and salt in a blender or food processor; pour 1 cup boiling water over top. Let stand 15 minutes to soften the dates, then blend until smooth.
3. Transfer blended date mixture to a large bowl; add oats and nuts/seeds. Use your hands to combine the mixture (it will be sticky and doughlike).
4. Spread mixture in an even layer on the prepared baking sheets. Bake 10 minutes. Stir with a spatula and break granola into small clumps. Bake 10 minutes more; stir again. Bake 5 to 10 minutes more, until the granola is crisp and evenly browned. Turn off oven; let granola cool in the oven.
5. Stir dried fruit into cooled granola. Store in an airtight container up to 2 weeks.
Healthy Granola: 5 Flavor Variations
Ready to switch things up? Add a few extra ingredients to the base recipe to make your oil-free granola extra tasty. The sky's the limit when it comes to the unique combinations of spices, dried fruits, and nuts you can create, but here are five of our favorite flavor variations that will make your morning meal super scrumptious.
1. Chocolate-Cherry Granola
Add ¼ cup unsweetened cocoa powder to the date mixture before blending. Use sliced almonds for the nuts/seeds and dried cherries for the dried fruit.
2. Cinnamon-Raisin Granola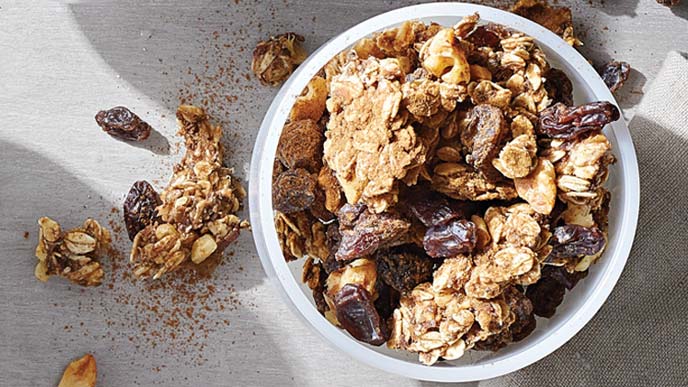 Add 1½ teaspoons ground cinnamon to the date mixture before blending. Use walnuts for the nuts/seeds and raisins for the dried fruit.
3. Mango-Chai Granola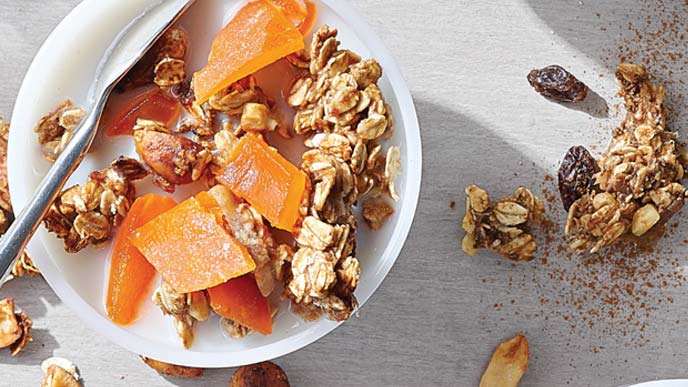 Steep 2 chai tea bags in 1 cup boiling water 4 minutes. Remove tea bags and use the tea in place of the boiling water to soften the date mixture. Add ½ teaspoon Ground ginger to the date mixture before blending. Use chopped cashews for the nuts/seeds and dried mango for the dried fruit. Tip: If you prefer decaf tea, try rooibos chai.
4. Pumpkin-Cranberry Granola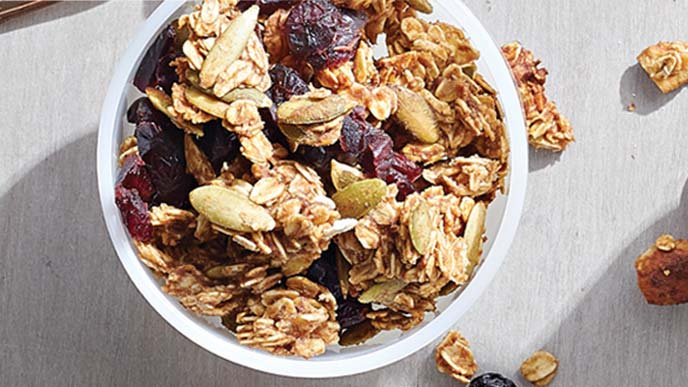 Add 2 teaspoons pumpkin pie spice to the date mixture before blending. Use raw pepitas for the nuts/seeds and dried cranberries for the dried fruit.
5. Peanut Butter-Blueberry Granola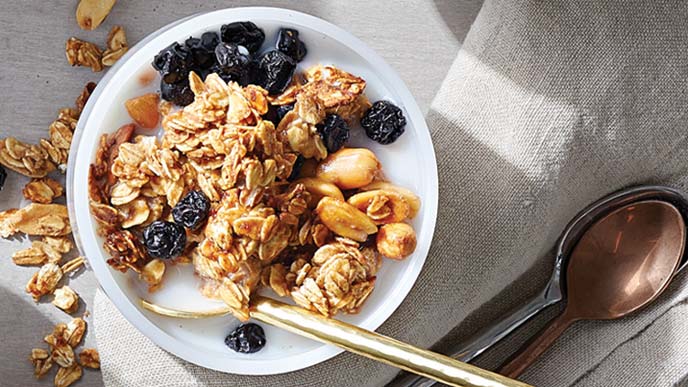 Use peanut butter for the binder in the date mixture. Use raw unsalted peanuts for the nuts/ seeds and dried blueberries for the dried fruit.
Credit: Source link