Thank you for well wishes for my dad – he has started doing a little better, but the road to recovery is going to be long unfortunately and we don't yet know if full recovery is possible. The stress is far from over.
Since I was told off for being in the hospital (long story) outside of single visiting hour, I took charge of meals for the three of us (my mum, my brother and myself) as that's something I am (sort of) qualified to help with and good nutrition is especially important (and easy to fall by the wayside in times of extreme stress).
This simple salad is what I came up with one evening based on what we had in the fridge and it went down really well with everyone (my dad, who is sick of horrible hospital food, including) so I thought I would share, especially that BBQ season is about to start and everyone needs a simple cabbage salad. I used finely shredded young cabbage and minced sun-dried tomatoes to add umami, which I tossed in a simple balsamic vinaigrette and topped with toasted walnuts for a satisfying crunch.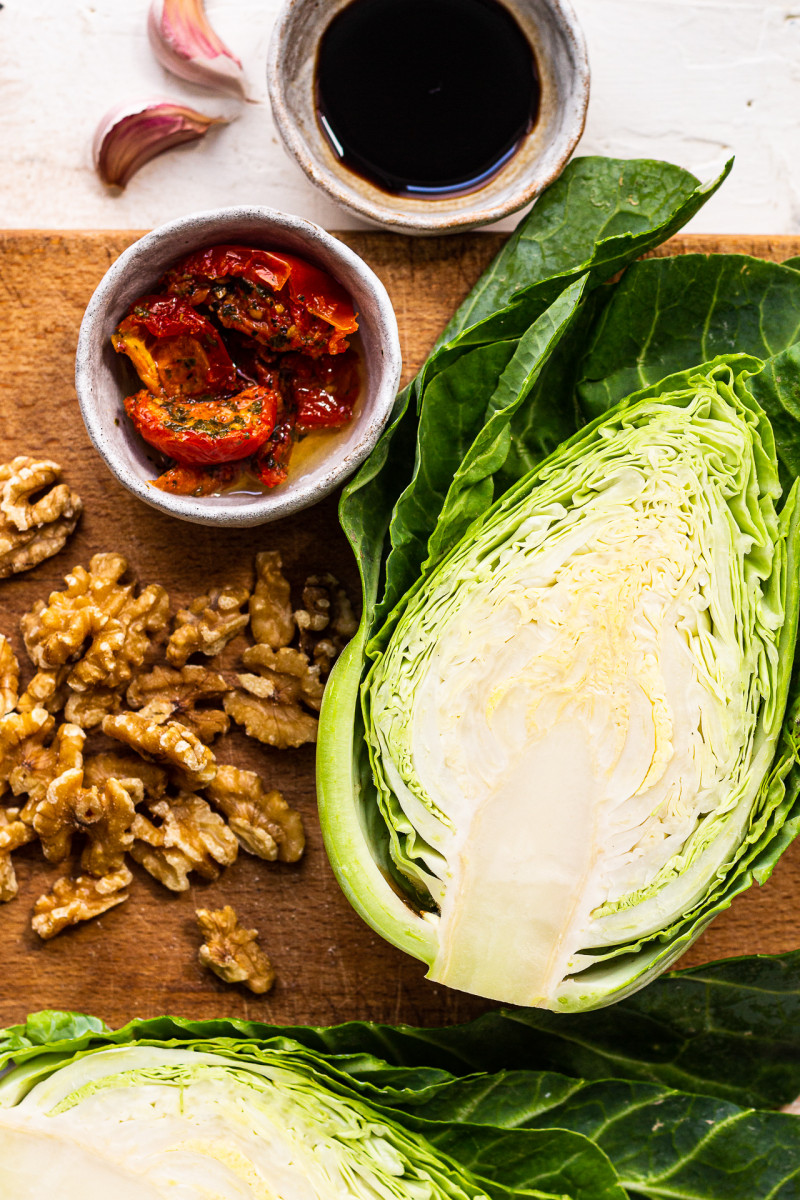 MORE ABOUT THE INGREDIENTS
CABBAGE: I used young white cabbage for this salad, in the UK it's conically shaped and called sweetheart cabbage, on the continent it's round. Either works fine, in fact any cabbage will, but since young cabbage is currently in season this is what I used. I like it shredded really finely, but the coarseness is really up to you.
SUN-DRIED TOMATOES: I really like little pops of flavour that finely diced sun-dried tomatoes (I used those preserved in oil) bring to this salad. I prefer the intensity of flavour of sun-dried tomatoes, which are darker and more wrinkled over the ones you can see in my photos – slow roasted tomatoes – although both work well.
GARLIC: I grated a small clove of garlic into the dressing. You can use small amount (a quarter teaspoon or so) of garlic powder instead of skip if you are not a fan of garlic.
OIL: I used extra virgin olive oil to make the dressing, but if you can also use the oil the tomatoes have been preserved in as it's full of flavours. I tend to use it for cooking instead.
BALSAMIC VINEGAR: Use quality balsamic vinegar if possible to make this dressing, it has a deeper and mellower flavour. If you can only get hold of cheap vinegar, you may want to add a little sugar (maple syrup or actual sugar) to the dressing to offset its acidity. Start off with 1 tsp of sweetener, taste and add more only if needed.
WALNUTS (or SUNFLOWER SEEDS): Every good salad needs a variety of textures including lots of satisfying crunch. This is why I've added pan-toasted and roughly chopped walnuts to this salad. When I made it for the first time, I was out of walnuts and used toasted sunflower seeds and they work just as well if you want to keep this salad nut-free.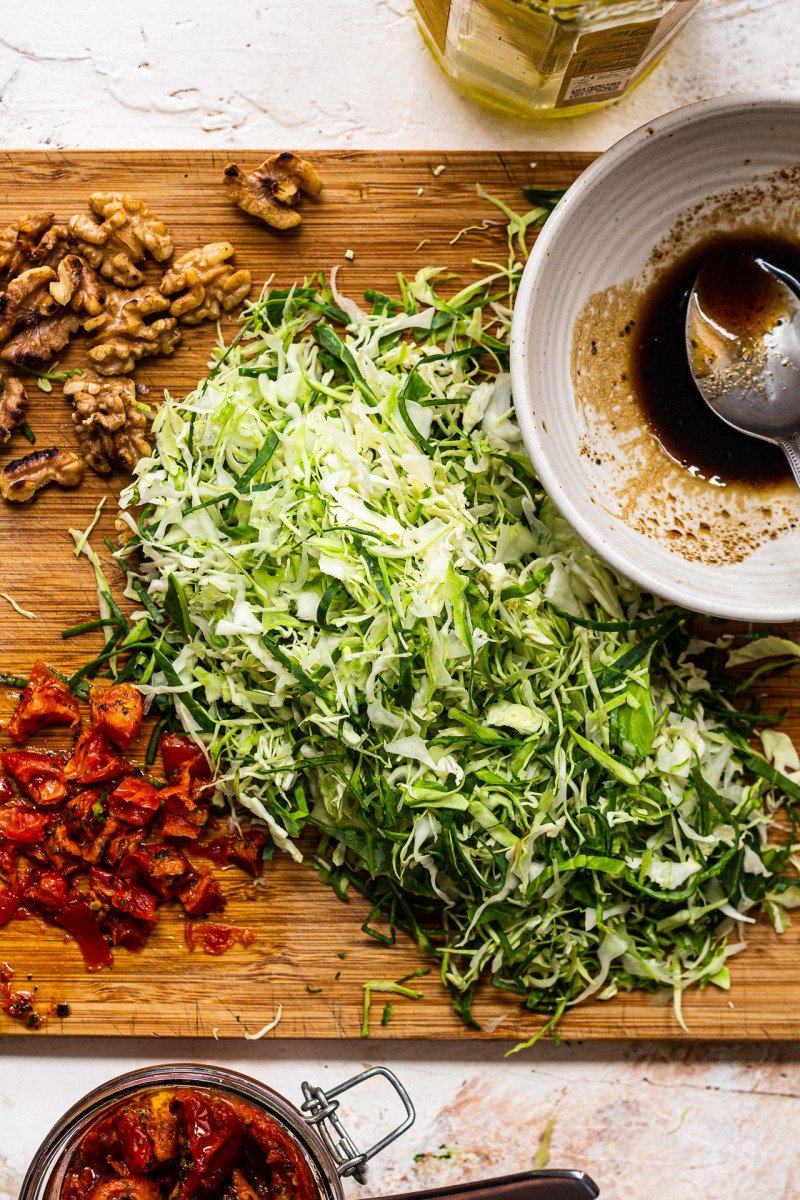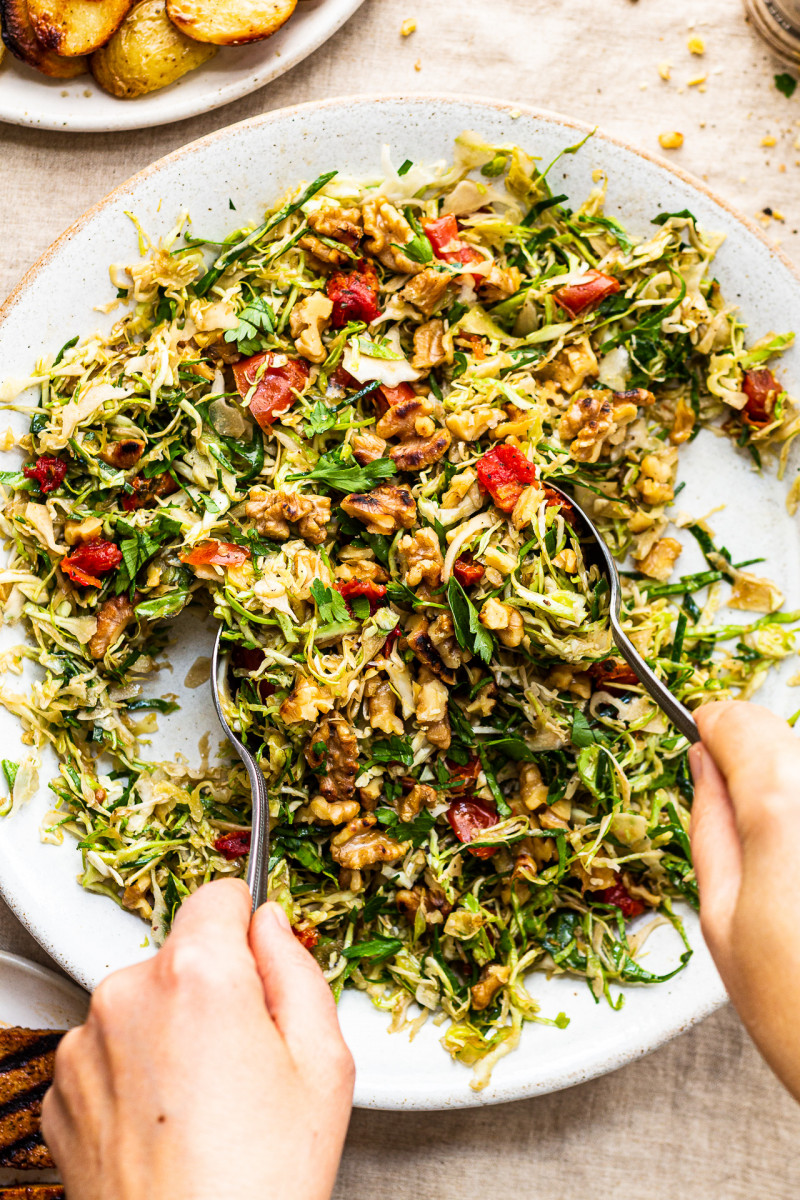 DRESSING
45 ml / 3 tbsp extra virgin olive oil
30 ml / 2 tbsp aged balsamic vinegar
1 garlic clove, grated finely
salt & pepper, to taste
SALAD
50 g / generous ½ cup walnuts*
400 g / 14 oz (1 small head) white cabbage*
60 g / 2 oz (8 small) sundried-tomatoes* in oil
METHOD
DRESSING
Combine all of the dressing ingredients in a jar and season generously. Put the lid on and shake well to emulsify. Taste and add more seasoning and a bit more balsamic if you like your dressing a little sharper. If your balsamic isn't mellow, you may need to add a small amount of sugar for balance.
SALAD
Toast walnuts on a dry pan until fragrant and charred in places. Keep an eye on them and toss regularly. Once done, take off the pan and allow them to cool before chopping.
Shred cabbage finely using a veggie mandoline or a very sharp knife.
Dice drained tomatoes into a finely.
Toss shredded cabbage and diced tomatoes in the balsamic dressing. Taste and adjust seasoning to taste. Serve with chopped walnuts on top.
NOTES
*WALNUTS: I originally made this salad with sunflower seeds as that's all I had and they were just as nice. Roasted pine nuts or hazelnuts will also mesh well with the rest of ingredients.
*CABBAGE: I used young white cabbage but any cabbage will work well.
*SUN-DRIED TOMATOES: I prefer sun-dried (as opposed to slow roasted you can see in my photos) tomatoes here. They are darker in colour and more wrinkled and can be found in a jar, in all well stocked supermarkets (next to capers and olives usually).
Credit: Source link