Don't have time on busy weeknights to cook up a culinary masterpiece for dinner? We spoke to some of our favorite plant-based pros about what they like to eat when time is tight. These quick and healthy meals are packed full of fresh flavors that will delight your taste buds and satisfy a rumbling stomach after a long day of work. Just as easy as microwave meals and far more nutritious, these delicious recipe ideas from the experts are perfect in a pinch.
Neal Barnard's BBQ Bean Tortas
"BBQ bean tortas are a quick and easy meal when I have little time for meal prep. You just need 8 corn tortillas or 4 toasted whole wheat hamburger buns; a 15-oz. can of low-sodium black beans, rinsed and drained; ½ cup each of barbecue sauce and chopped pineapple; 1 cup fresh salsa or diced tomato; and guacamole (optional). If using tortillas, preheat the oven to 375°F and bake them 5 to 10 minutes or until crisp. Warm beans with barbecue sauce. Then spoon onto tortillas or buns and top with pineapple, salsa, and guacamole."—Neal Barnard, MD, FACC, president of the Physicians Committee for Responsible Medicine and author of Your Body in Balance: The New Science of Food, Hormones, and Health
The Winter 2023 Issue
is here!
Our gorgeous "bookazine" features expert tips, inspiration, and 81 comforting recipes for Winter.
Ian Cramer's Burrito Bowl
"I reach for a rice bowl: warmed brown rice on a bed of spinach with black beans, salsa, and a quick avocado sauce made with avocado, garlic, lemon juice, and a bit of salt to taste. My trick for this is meal prep: Have starchy staples like brown rice, any kind of potato, quinoa, or other whole grain on hand week to week that you prep on Sundays."—Ian Cramer, host of The Ian Cramer Podcast, endurance athlete, and public speaker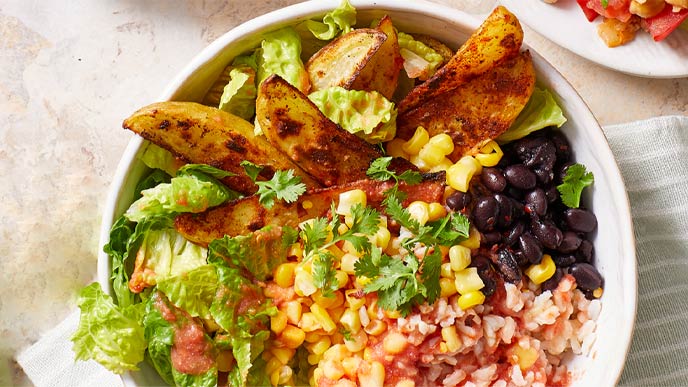 Joel Kahn's Hearty Arugula Salad
"I love a giant arugula salad (I'm hooked on arugula) with some lupini beans, a few walnuts, a sprinkle of hemp hearts, sun-dried tomatoes, lemon juice, and balsamic vinegar." —Joel Kahn, MD, founder of the Kahn Center for Cardiac Longevity in Bingham Farms, Michigan, and author of The Whole Heart Solution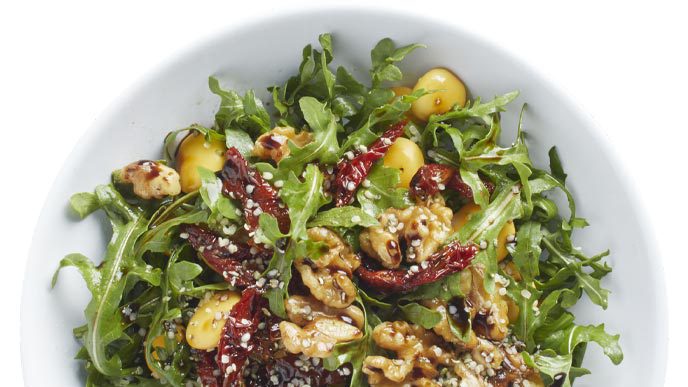 Cory Warren's Spicy Beans and Rice
"My go-to meal is rice and beans in the Instant Pot. Place a cup of dry brown rice at the bottom of the pot and pour in 1½ cups of water or veggie broth. Place a can of beans in an oven-safe bowl with 1 teaspoon each of paprika, garlic powder, oregano, cumin, and onion powder. Put the bowl on a rack on top of the rice. Cook for 22 minutes non low-pressure natural release, and you've got the best rice and beans ever. I can even take a shower and come back, and it's ready for me and my family!"—Cory Warren, chief dad/founder of leangreendad.com
Shivam Joshi's Mediterranean Veggie Sandwich
"I recently got into sandwiches, and one of my favorites is my Mediterranean sandwich. Just toast two slices of Dave's Killer Bread and spread a low-calorie (equal or less than 40 calories per serving) hummus on one slice and guacamole on another slice. Layer kalamata olives, sliced tomatoes, roasted red pepper, fresh onions, cucumbers, and red leaf lettuce on one slice. Assemble and enjoy!"—Shivam Joshi, MD, board-certified internal medicine physician at NYC Health + Hospitals Bellevue and clinical assistant professor of medicine at New York University Grossman School of Medicine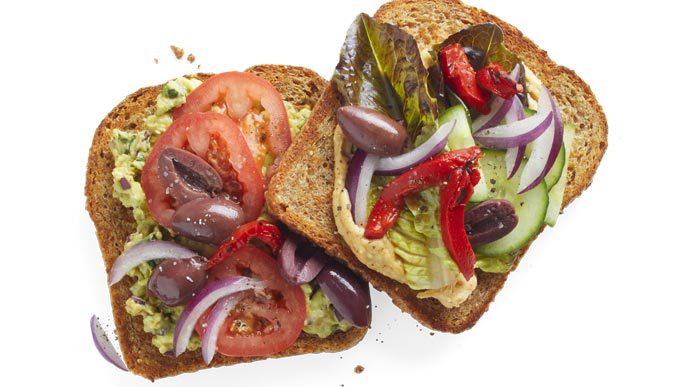 Angie Sadeghi's Tofu and Sautéed Veggie Salad
"When I get home from work, I'm usually tired so I make something quick that doesn't involve
hours in the kitchen (I'd rather spend that time with my son). I grab a pack of sriracha tofu from Trader Joe's, cut it into small cubes, and put it into an air fryer for 10 minutes. While that's cooking, I take out a variety of frozen veggies, including broccoli, edamame, and bell pepper, and sauté for 5 minutes in a pan over high heat. I serve this on a bed of greens with a side of avocado and some oil-free avocado dressing from Whole Foods."—Angie Sadeghi, MD, gastroenterologist in Newport Beach, California, and president/CEO of The Institute for Plant-Based Medicine
Cathy Fisher's Bean Tostadas
"Because I usually have the ingredients on hand, my favorite quick meal is tostadas. I add canned black or pinto beans to cooked rice, but if I don't have prepared rice, I'll just heat the beans with a little chili powder and corn. I crisp my oil-free corn tortillas under the broiler. I also love shredded cabbage on my tostadas, and sometimes grated carrots, chopped onion, and cilantro—and of course, sliced avocado."—Cathy Fisher, author of the Straight Up Food cookbook and creator of straightupfood.com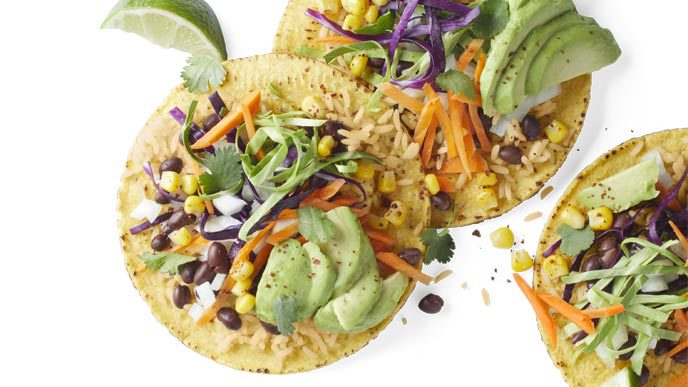 Credit: Source link