It's so cold out and the usual end of the year festivities are just round the corner so I figured a seasonal yet festive looking dish is what will hit the spot. With that said, enter my roasted squash salad, which I am hoping may end up on your Thanksgiving or Christmas table this year.
This roasted squash salad looks festive and is a beautiful contrast of flavours – sweet and tangy – and textures – soft, chewy and crunchy. It's so substantial that it would make a delicious stand alone lunch, but it would also be a great, naturally vegan and gluten-free side, on any dinner table. This salad may look complicated, but it is really quite simple. It features beautifully roasted slices of winter squash dusted with a bit of cinnamon, some assorted salad leaves, some diced and quick-pickled red onion, caramelised pecans and a tangy balsamic reduction. I also added a smattering of vegan feta as I wanted a bit of a creamy and salty element, but it is not necessary for this salad to work well. You can skip it or replace it with another vegan cheese you like – a cashew based blue cheese would be my pick (I especially enjoy Brixton Blue by Fauxmagerie, but it's hard to get in Bristol).
MORE ABOUT THE INGREDIENTS
SQUASH: I wanted this salad to be all about autumn/winter produce so I used winter squash to make this salad. You can use any time of squash or pumpkin you enjoy eating roasted. You want it to be dense (like butternut squash), not watery.
CINNAMON: I used seasoned the squash with a small amount of cinnamon for an autumnal feel. You can also use a bit of nutmeg, but not too much – it's potent.
OIL: I mild olive oil to brush the squash before roasting and some extra virgin olive oil to dress the salad.
BLACK RICE: As I wanted this salad to be satiating and have some heft, I used chewy black rice here. It's easy to cook (you simply cook it like pasta) and very nutritious. It is not as easy to find as other types of rice so if it isn't available to you, simply reach for brown rice or, if gluten is your friend, grains such as farro, pearl barely or even small pasta like orzo or giant couscous.
SALAD LEAVES: For greens, I used a bag of assorted salad leaves that include rocket, spinach and red lettuce.
PECANS: A good salad needs a bit of crunch and so I reached for pecans that are such an autumn staple. I toasted them on a hot pan and caramelised in a small amount of maple syrup, but that's not necessary if you want to speed things up. They are irresistible though so you may not want to miss out. If pecans are hard to get swap them out for walnuts or hazelnuts or pumpkin seeds for nut-free option.
RED ONION: I find raw onion a little too harsh in most contexts if I am honest so I quickly pickled some red onion for this salad by immersing it in some apple cider vinegar and water. Not only does it turn the onion beautiful pink, it also mellows out its flavour and adds a bit of acidity.
BALSAMIC VINEGAR: Balsamic vinegar is what I used to make the sweet and sour glaze that finishes this salad off beautifully. The glaze or reduction is created by simmering some balsamic vinegar and maple syrup together briefly so it's quick and easy and tastes a million dollars, but you can also buy balsamic glaze (not vinegar) instead and use that.
MAPLE SYRUP: Maple syrup is what I used to create the balsamic glaze to dress the salad but you could also use sugar, dark preferably but white will do too. I also used a small amount of maple syrup to caramelise the pecans, but again sugar will work.
VEGAN FETA CHEESE: I added some vegan feta to this salad as I wanted something creamy and salty to finish it off. I used Violife feta, which is widely available here in the UK, but any similar type of vegan cheese you enjoy will be just as lovely.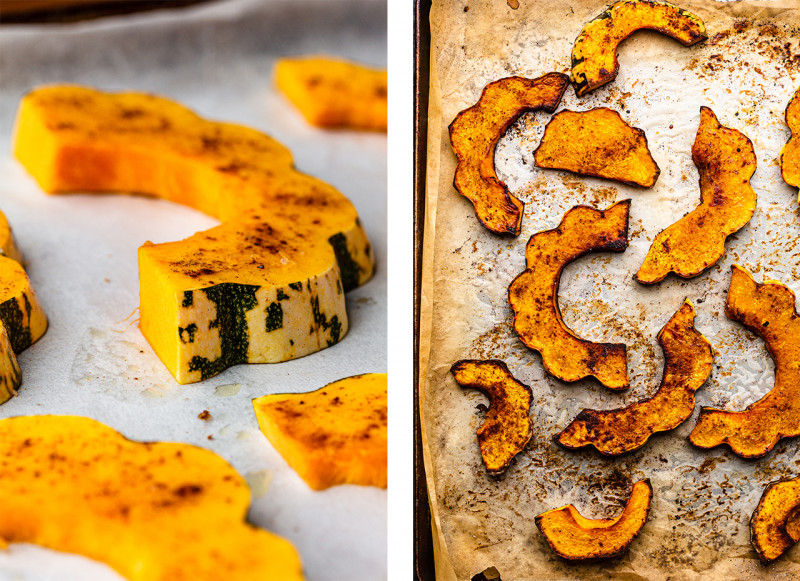 Cut the squash into thick slices (no need to peel if the skin is soft and edible), brush with a little olive oil, season with some cinnamon and salt and bake until soft and caramelised on both sides.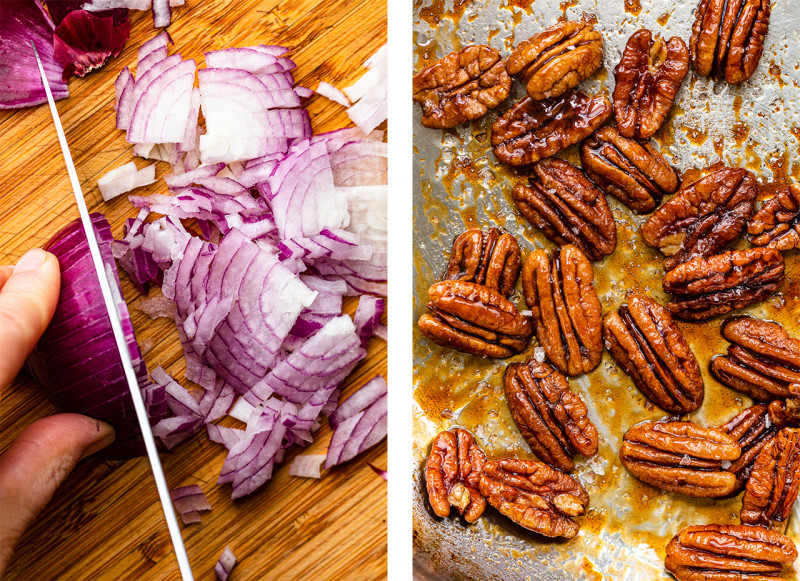 Finely diced the onion and pickle it in some apple cider vinegar while you get on with the rest of the salt. Toast pecans on a small frying pan until fragrant and lightly charred in places. If you like coat them in a bit of maple syrup, allow it to caramelise and remove from the pan. Cool before chopping roughly.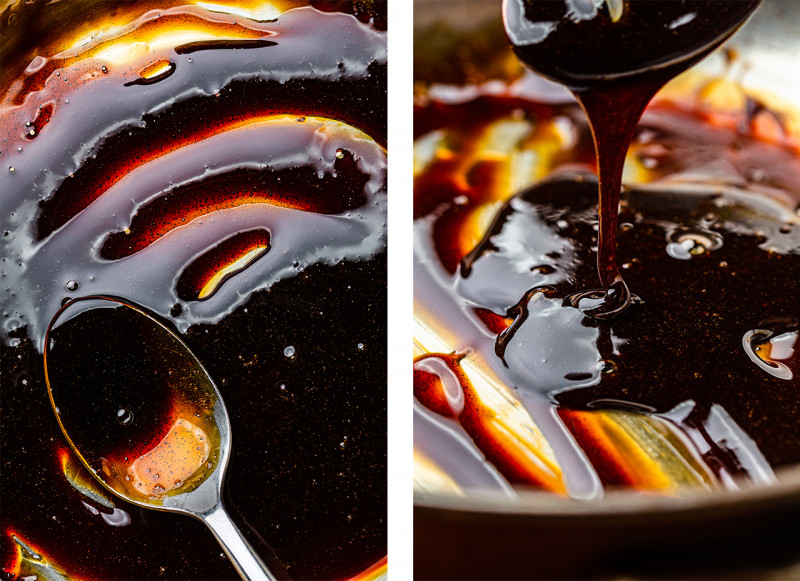 Finally, make some balsamic reduction by combining quality balsamic and some maple syrup in a small pan or pot (I use the same one I toasted my pecans in, without washing it). Allow the two to simmer gently for about 5 minutes – just until enough excess moisture evaporates to turn the mixture into a thick syrup. The syrup thickens as it cools so don't judge it too early and if you over-reduced it (i.e. it's TOO thick) simply bring it back by adding a splash of water back in.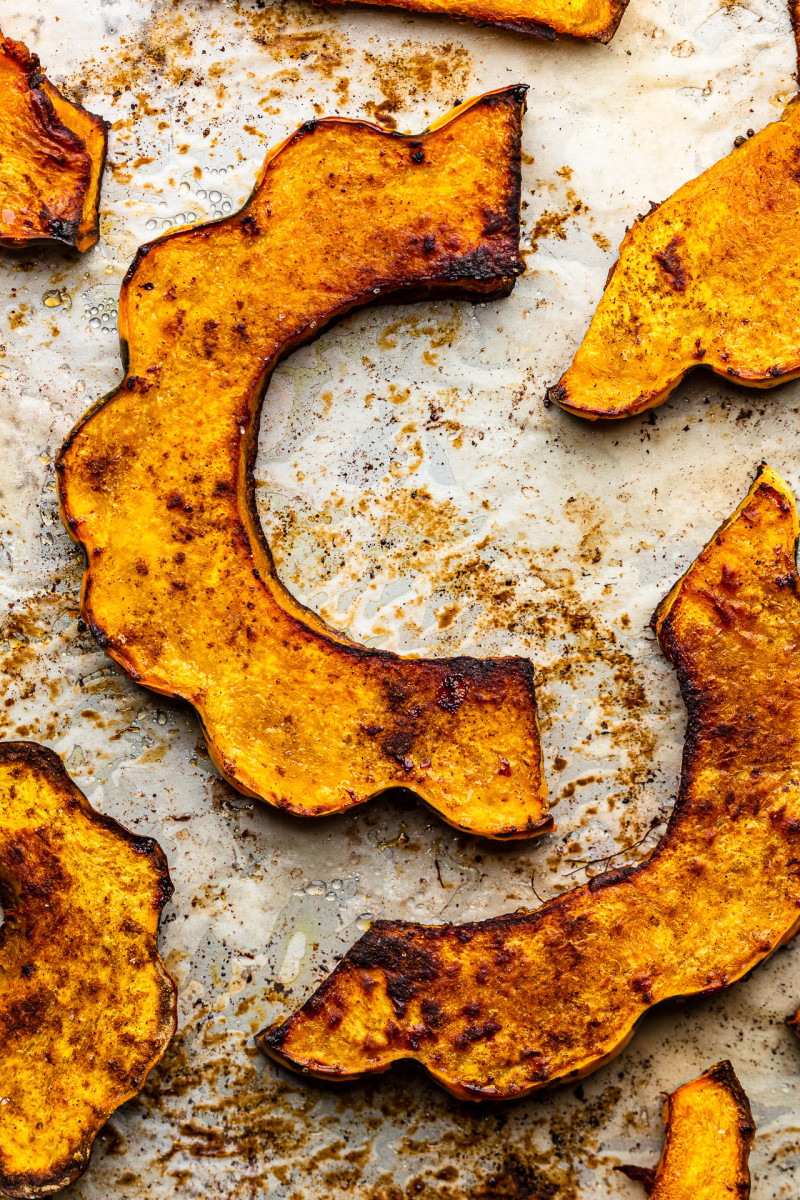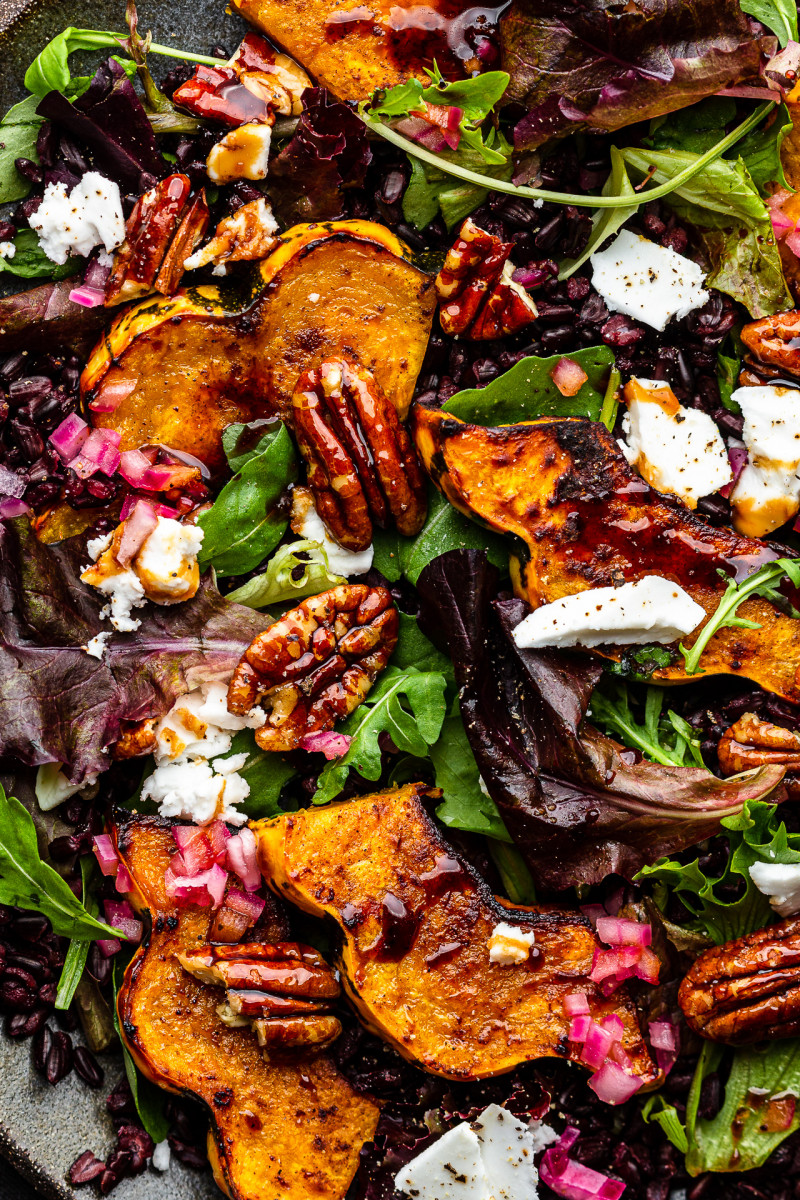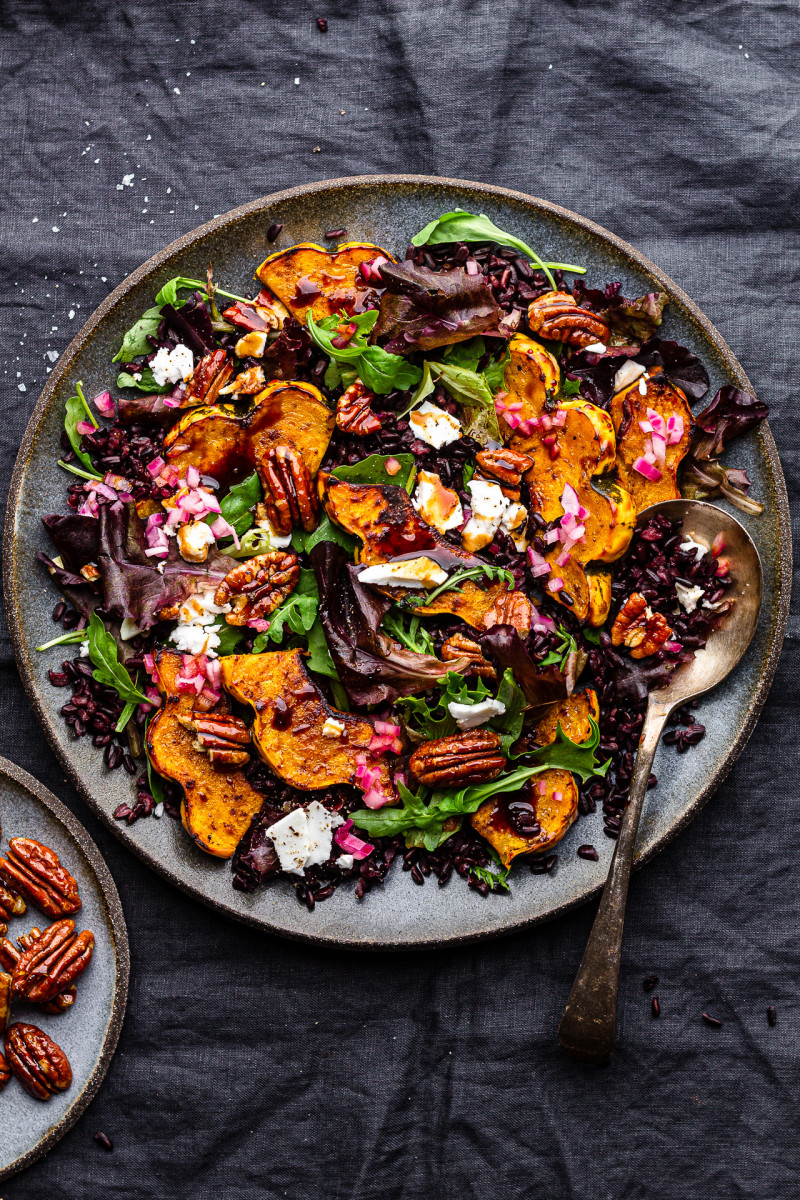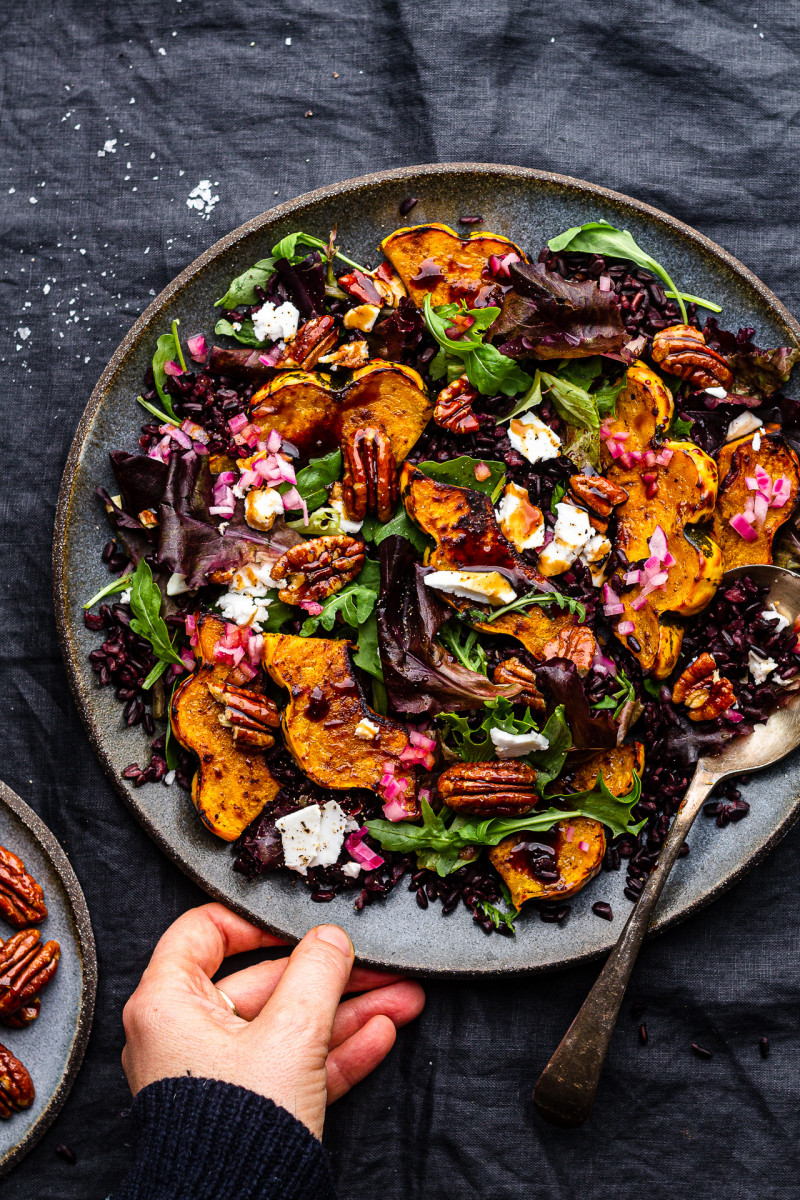 BALSAMIC GLAZE
60 ml / ¼ cup quality balsamic vinegar
15 ml / 1 tbsp maple syrup or brown sugar
SALAD
250 g / 2 cups cooked black or brown rice
¼ red onion
30 ml / 2 tbsp apple cider vinegar
750 g / 26 oz winter squash or pumpkin
olive oil
½ tsp cinnamon
60 g / 2 oz assorted salad leaves
50 g / ½ cup pecans or walnuts
10 ml / 2 tsp maple syrup
50 g / 1.75 oz vegan feta, optional (I used Violife)
METHOD
BALSAMIC GLAZE
Combine balsamic vinegar and maple syrup in a small pot or pan.
Bring to a gentle simmer. Allow it to simmer, stirring frequently, for about 5 minutes on low heat.
Set aside to cool down, it will thicken as it cools. If it thickens too much, add a small splash of hot water to bring it back to thick but pourable consistency.
SALAD
Cook rinsed rice in plenty of water until cooked but still chewy, drain, set aside to cool.
Cut onion into super fine dice, place it in a bowl with apple cider vinegar, pinch of salt and 1 tbsp of water. Mix through and set aside.
Cut squash into 1 cm / 0.4 inch thick slices. If the skin is thin and edible (like acorn squash, there is no need to peel), if it's tough (like in butternut squash) peel it.
Heat up the oven to 225º C / 435º F and grab a large baking tray.
Brush squash slices with oil, sprinkle each slice with a pinch of cinnamon and salt.
Bake for about 12-15 minutes on each side, until cooked through and caramelised.
Toast pecans on a small frying pan, once toasted – take off the heat and stir maple syrup through them. Season with salt. Return to low heat for 1 minute before transferring to a piece of baking paper. Cool before chopping roughly.
Combine salad leaves and rice in a mixing bowl. Stir some olive oil through them, season with salt and pepper.
Arrange on platter with cooled pumpkin slices (cut some of them into smaller pieces for variety).
Top with pickled onions, chopped walnuts and crumbled vegan feta. Drizzle with balsamic glaze (leave some on a side).
NOTES
Credit: Source link