As summer is finally here I've come up with a simple seasonal recipe for barley salad that features plenty of summer produce – tomatoes, zucchini, basil – and which has kept me fed a lot lately.
It's a simple to make salad, which I like to top with my homemade almond ricotta for some added creaminess and drizzle with my homemade chilli oil for a bit of a kick. Both of these are optional, but they elevate this simple dish a lot in my opinion. This summery barley salad can be served at room temperature or warm whatever feels appropriate at the time of eating.
Instead of making a salad dressing separately, I sautéed a generous amount of garlic in a olive oil, I then fry sweet cherry tomatoes in the resulting garlic oil and use that to dress my salad alongside some quality balsamic vinegar. It's simple yet delicious and thanks to chewy pearl barley very satiating too. If you want to add extra protein, I often add half a cup of chickpeas per person – they go really well and, if you use canned chickpeas, add no additional work.
You could of course roast the vegetables in an oven (like I did here and here) or you could use a griddle pan (like in this recipe), but as I wanted to keep this recipe heat-wave friendly and accessible, I cooked in a large stainless steel pan on the stove. I've been enjoying this simple summery dish lately and I hope you will too.
MORE ABOUT THE INGREDIENTS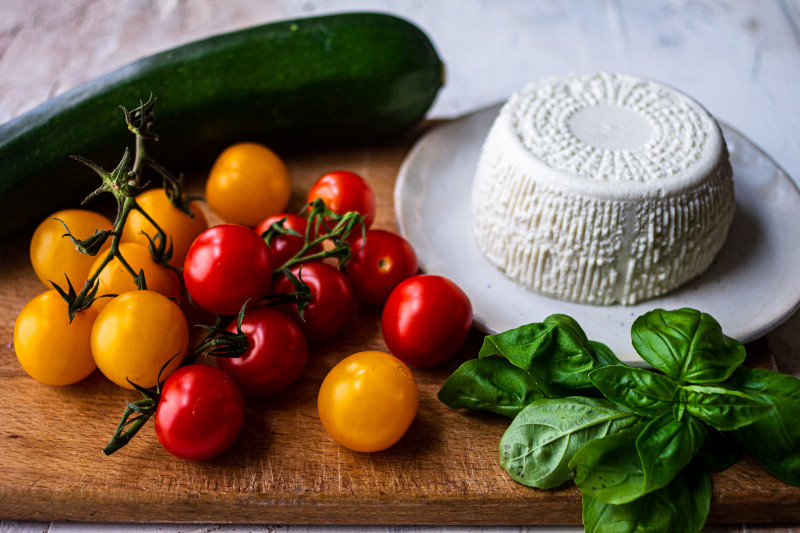 PEARL BARLEY: I love using pearl barley in salads as it's so neutral in flavour, satiating and has a satisfyingly chewy texture. I cook it in plenty of water (ensure it's well covered) on low heat for about 20 minutes. I recommend testing often towards the end of the cooking time – you want the grain cooked through but you want it to retain its pleasant chewiness. Oh and ignore what is says on the packet, my packet said to cook the grain for 60 minutes but there is no way that's right, even at 25 minutes the grain was looking a little overcooked with fuzzy edges. If you want to make this salad gluten-free, how about using wholegrain rice or quinoa? It won't be quite the same but it will also be delicious. I also recommend adding about a cup (or more) of cooked chickpeas if you want to bulk this salad up a little and add extra protein.
GARLIC: I used a generous amount of garlic (feel free to use less or more) to create the dressing. If it sounds like a lot, don't panic – garlic mellows a lot during frying! The key to infusing oil with garlic is to allow it to cook slowly (on low heat).
OLIVE OIL: I used cooking olive oil here but you can probably get away with using extra virgin olive oil as we are not using high heat in this dish.
BALSAMIC VINEGAR: A small amount of quality balsamic vinegar rounds this dish of nicely. Start of with a small amount and add more if needed.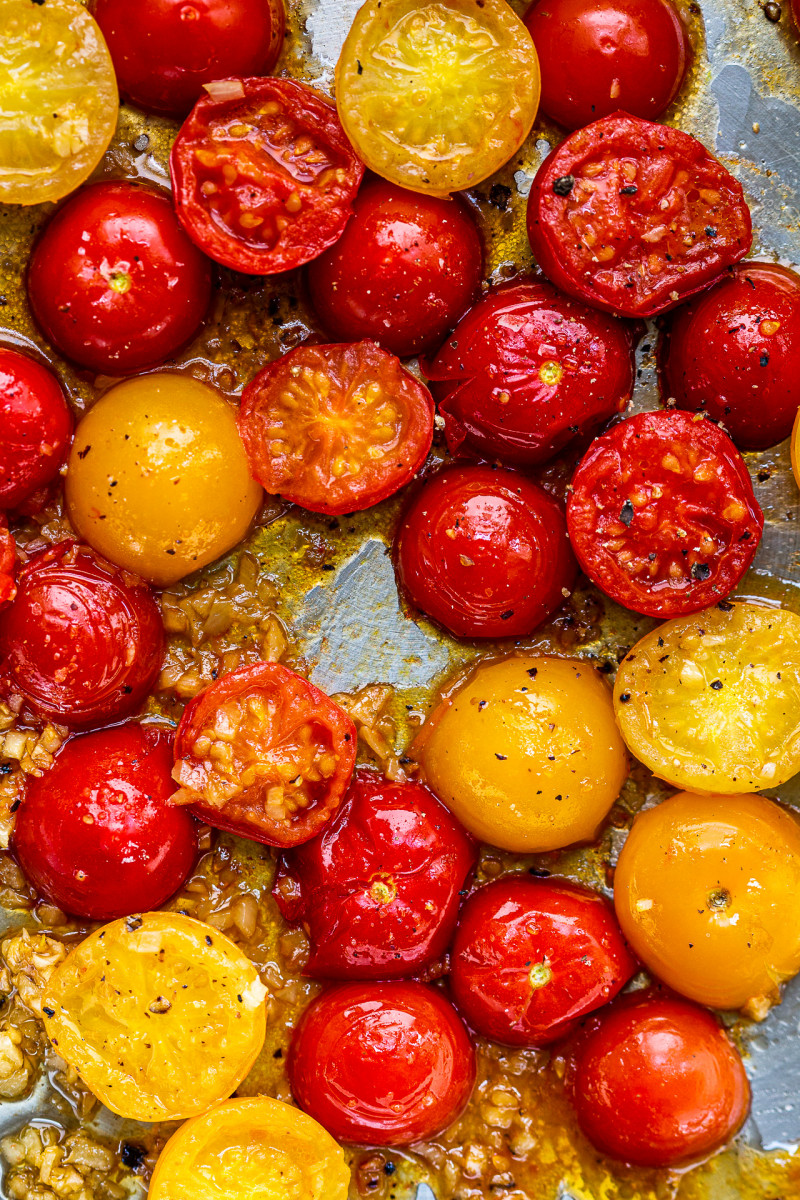 CHERRY TOMATOES: I used sweet cherry tomatoes here. I slowly cooked them in garlicky olive oil to soften them and to intensify their flavour. I added a good pinch of sugar to amp up their natural sweetness.
COURGETTE/ZUCCHINI: I sliced my zucchini into thin rounds and pan-fried it in small amount of oil. You could also cook it on a griddle pan if that's what you prefer.
VEGAN RICOTTA: I topped my barley salad with homemade almond ricotta to give it another textural element and it really elevates it in my opinion. You can use an soft vegan cheese you enjoy or maybe a dollop of vegan creme fraiche instead for a bit of creaminess.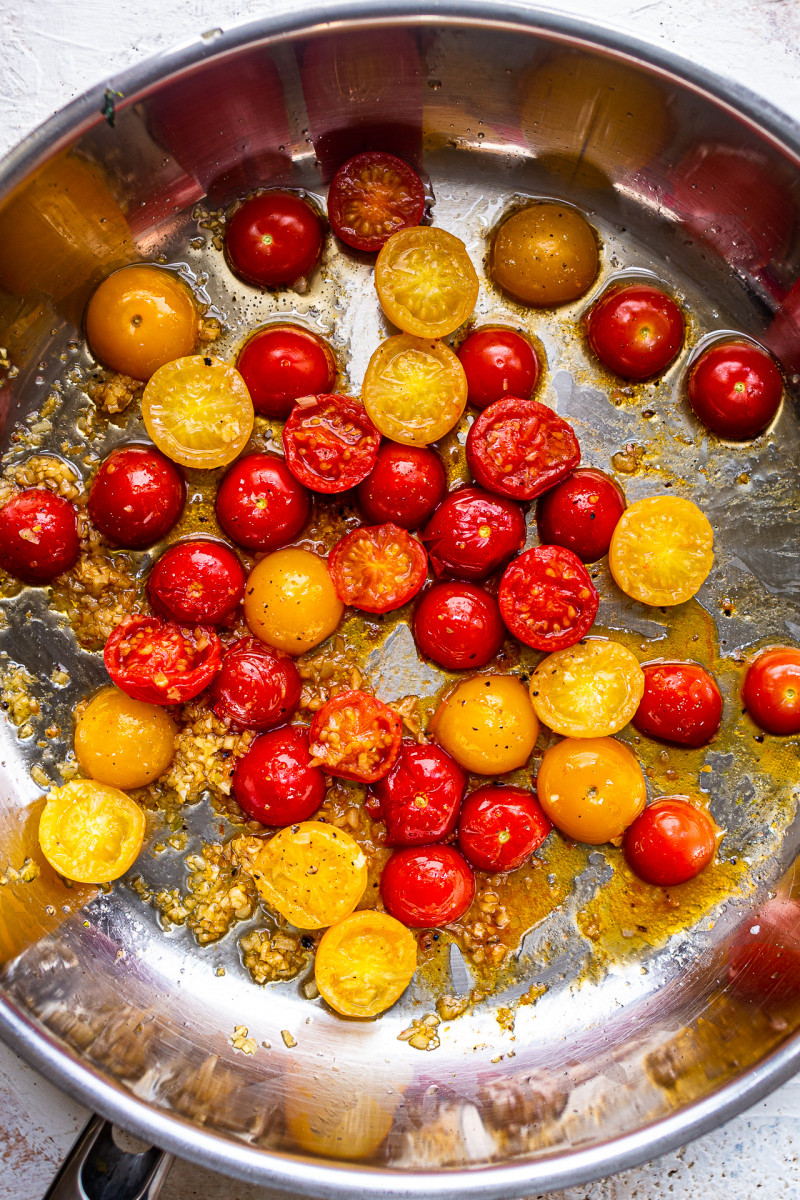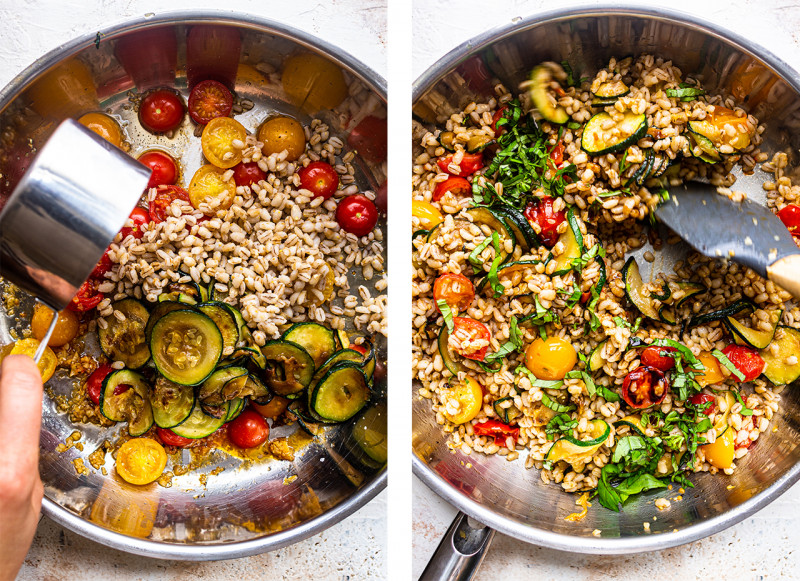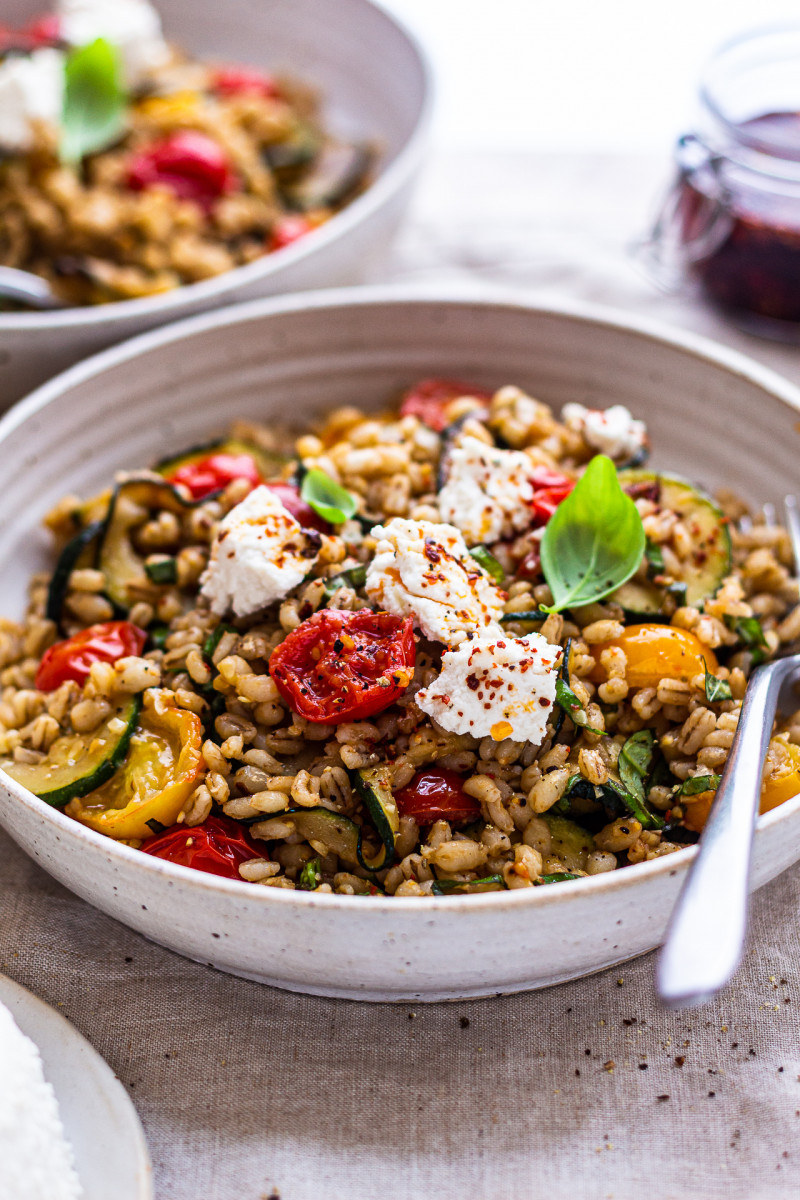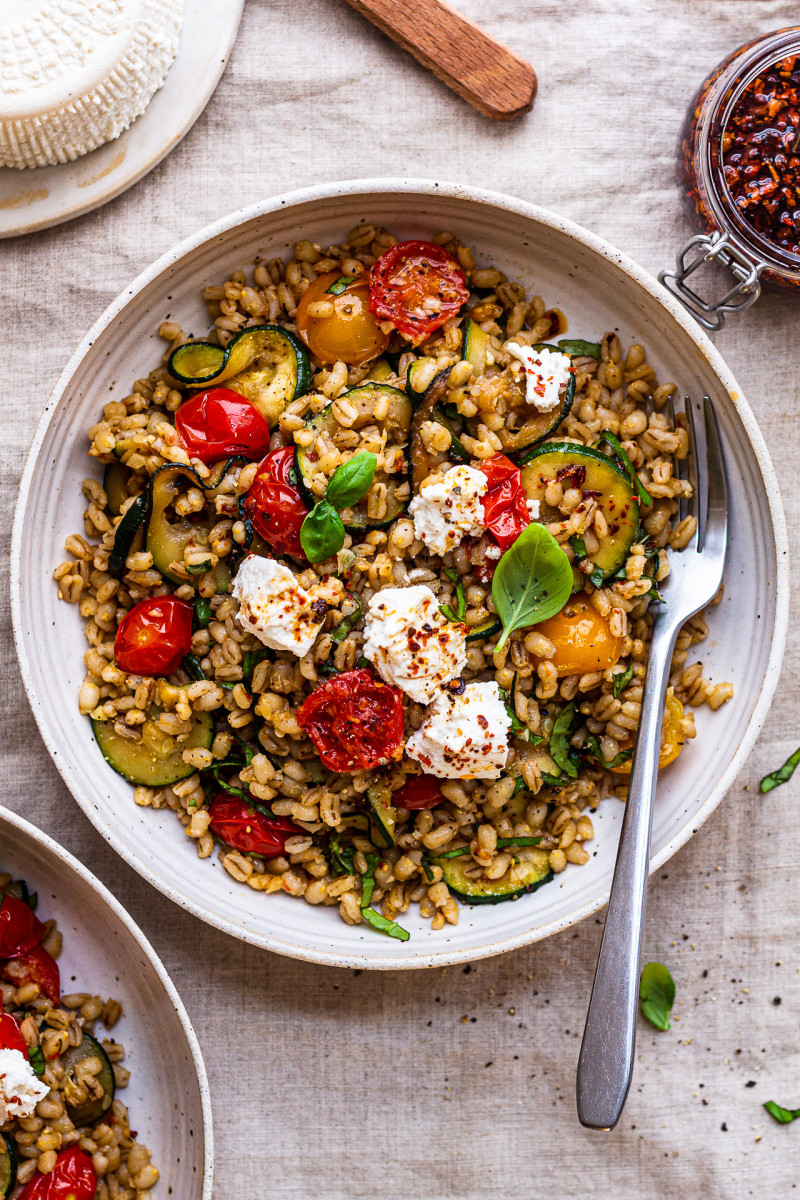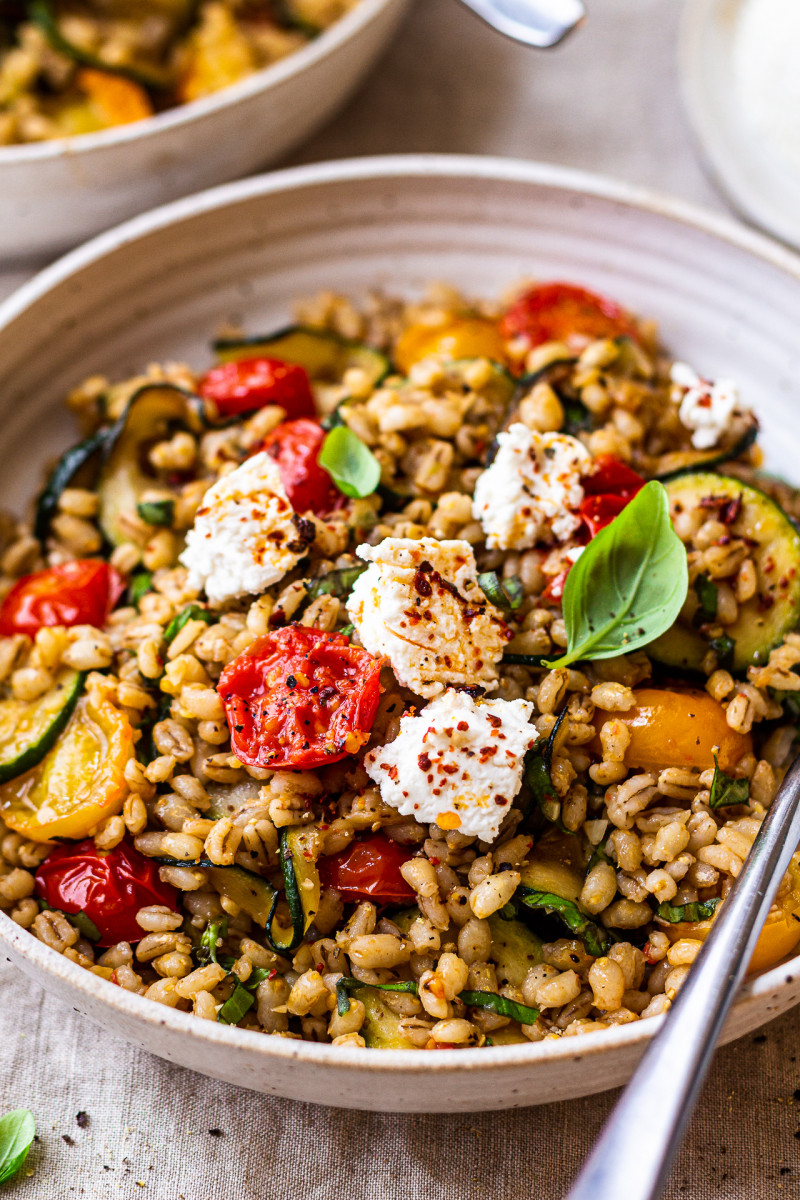 420 g / 3 cups cooked pearl barley* (approx. 1 cup raw)
1 large (340 g / 12 oz) courgette/zucchini
200 g / 7 oz cherry tomatoes
30 ml / 2 tbsp olive oil, more if wanted
3 garlic cloves, diced very finely
salt & pepper
a good pinch of sugar
a large handful of basil (or mint), finely chopped
15 ml / 1 tbsp aged balsamic vinegar
TOPPINGS (optional)
METHOD
Slice zucchini thinly and halve your tomatoes widthwise.
Heat up a large stainless steel pan on low-medium heat. Add 2 tsp (10 ml) of olive oil, once the oil warms up arrange half of the zucchini slices on top. Sauté them until cooked through on both sides and charred in places, flipping to the other side frequently. Continue until all of the zucchini is done (you can add more oil if you wish but I didn't find it necessary), remove from the pan and set aside. Clean the pan.
Gently heat up the remaining oil in the pan, add diced garlic and cook it on a whisper of a flame so that it does not burn. Stir frequently.
Once garlic is fragrant and translucent, arrange tomatoes on the pan, cut side down. Increase the heat a little and allow them to cook gently until they soften and release juices.
Season with a generous amount of salt and pepper and a pinch or two of sugar.
Turn the tomatoes that have cooked to the other side, continue to cook them until softened a little – not too much, you want softened not mushy.
Add cooked barley and zucchini slices to the pan. Stir well, season with balsamic vinegar and more salt and pepper if needed.
Stir basil through and divide between bowls, top with vegan ricotta (or other soft vegan cheese) and chilli oil (or olive oil) if using.
NOTES
*PEARL BARLEY: cook well rinsed pearl barley in plenty of water until cooked through but still pleasantly chewy (about 20 minutes). Cooked barley keeps really well in the fridge (for a week or so) so you may want to cook a big batch in advance. If you want to keep this dish gluten-free, you can use brown rice or quinoa instead.
*VEGAN RICOTTA: if you don't have any good vegan soft cheese on hand, how about a dollop of creme fraiche (Oatly does a good one) to add another texture.
NUTRITIONAL INFO
*per half a recipe (without toppings)
Credit: Source link